If you asked anyone for an race from Flash Gordon the most likely response would be either the Hawkmen or the Tree-Men (although it's doubtful anyone would call them that). Going back to the original comic, right from the very start of Alex Raymond's strip we see that Mongo is a rich and detailed alien world, with many more peoples than those we are familiar with from the 80's movie and most modern retellings.
One such race which has fallen into obscurity is the Lion-Men of Mongo. One of the first natives to team up with Flash (after an altercation in the skies) is Thun, crown prince of the Lion-Men. Early on he becomes one of Flash's group and for that reason (and some prompting from I See Lead People's Eli Arndt) I've decided to include the Lion-Men in my initial 15mm Flash Gordon line up.
There are quite a few interpretations of Lion-Men in the different source matrial. In Alex Raymond's original there was not much "Lion-ness" about them. Thun was pretty much a semi-naked orange man with big dreadlocks and a beard...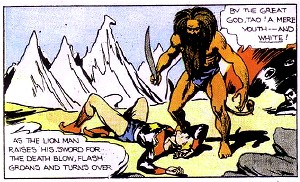 This was also a look followed by the Buster Crabbe serials...
However in some of the other versions there has been a definite more animalistic appraoch the Lion-Men, including both the 1979 Filmation cartoon (far left on the DVD cover below) and also in the new comic by Aarden Entertainment (in the background on the cover below, behind Flash and Dale).
So with an eye towards having a more interesting and varied 15mm battlefield I have decided to go with the animalistic approach as there seems to be a good selection of 15 cat people out there. As Eli kindly drew my attention to, Splintered Light Miniatures do a whole range of cat people, not limited to just Lions.
I think for a starting skirmish group the 11 men plus leader for $8.00 would be ideal, but for future expansion you could do the different aspects of the Lion-Men's culture with the different types of feliniod that Splintered Light produce.

Laters,

C.